What does it take to deliver real results with Internet marketing?

At a minimum, 20-30 hours a month of research, content development, and graphic design. Content is King!
Don't have 20-30 hours a month? We can help. According to the U.S. Small Business Administration, "small businesses with revenues less than $5 million should allocate 7-8 percent of their revenues to marketing."  This cost should be split between brand development (e.g. website, sales material, etc.) and promotions (campaigns, advertising, events, etc.).  A comprehensive marketing strategy includes a mix of mediums to get the word out about your products and services and keep your brand top of mind when customers think about the products or services that you offer.  A good campaign requires at least 20-30 hours per month for daily Facebook posts and one simple monthly email newsletter.  The average active campaign that includes a comprehensive monthly email newsletter along with multiple daily posts on Facebook, Twitter, Instagram and other social media sites requires at least 20 hours per week and can start at $3,500/month.  The increased cost usually comes with a marketing strategy, reporting, sponsored posts and other tools.  Don't have $1,000? Keep reading.


The Strategy
Some agencies do not include an Internet marketing strategy as part of their monthly cost. Developing an Internet marketing strategy is important but also time-consuming.  You need to head in with a game plan and a list of measurable goals.  Without a strategy, you may see a bunch of "likes" on Facebook or a lot of followers on Twitter but no one actually interacting with your content or buying your products or services.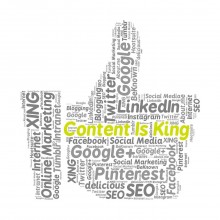 The industry average cost to develop a comprehensive strategy for Internet marketing and outsourcing the work can run about $5,000 per month.  For most small businesses and campaigns, the strategies are all similar.  Blog post help to make you a thought leader and improve your SEO.  Twitter is an excellent way to engage industry leaders, bloggers, and the press.  Facebook is excellent for interacting with and engaging consumers.  Instagram is the go-to place for imagery and short video clips.  If you have great pictures of your products and customers engaging with your products, you will want to show them off on Instagram.  A good strategy will also include some mix of press releases and ads/sponsored posts on one or more channels such as Facebook, Twitter, Instagram, and YouTube.

Why Does It Cost So Much?
You're paying for time and tools.  A two line Facebook post could take 5 minutes to an hour to write and post.  This estimate is especially true if you're searching for good content to re-post from industry leaders or complimentary businesses.  It is also true if you have to look for or edit a photo to include with your post.
If you average 30 minutes per post and 2 posts per day for 5 days a week, you're looking at approximately 5 hours per week or 20 hours per month just for Facebook.  Include time to write, edit, and proof a blog post and email newsletter and you can add at least another 10-15 hours a month.  A conservative estimate of $50 per hour and 30 hours per month comes up to $1,500 per month.  When you include the cost of tools, strategy, reporting/analytics, ads/sponsored posts, press releases, multiple posts, graphic editing, and multiple channels, the cost goes up.
Keep in mind you don't need to spend big either.  A $10,000 or $20,000 monthly budget is not going to help the average small business unless you are doing something amazing that caters to a broad audience. Find an agency with experience and a budget that complements your business.  Freelancers are inexpensive but are usually only good in one area and restricted by time. Big agencies usually have multiple levels of management that must be supported and as a result, charge much more.


Can I Do It Myself?
Sure, but remember you get what you pay for – or don't pay for.  If you are strictly interested in keeping your customers updated, you can do this yourself or at a reduced cost.  Part of marketing is to keep your brand at the top of mind when your customers think about products or services that you can offer.  We encourage business owners to put out a monthly newsletter that can include three easy items: 1) what's new or changed at your business, 2) what's new or changed in the industry, and 3) an event that will be happening nearby.


How We Do It?
We start our SEO and digital marking plans at $1,500/month. This budget provides us with the necessary time and resources to do the job correctly and be confident in the success of your campaign.  We can do regular monthly Internet marketing or short-term high traffic campaigns to promote an event.
Our goal is to develop long-term relationships and help our customers grow.  We generally do not accept clients under $1,500/month because it is difficult to deliver real results.  We do not want to undertake projects or accept money from clients if we do not believe we can provide real results and true value.  Poor experiences and client turnover result in wasted money on both sides.
We also leverage our technical expertise to enhance your website to support a strategic marketing campaign.
Depending on your budget, here is what you get:
Daily social media posting: we will post content 1-3 times a day (sometimes more and depending on the channel)
Increase in followers: we will search for Twitter followers who could be potential customers
1-12 blog post a month: we will generate informative content using keywords relevant to your business and industry.
Email newsletter: 1-4 times a month we will generate an email newsletter featuring at least one of the blog post
Facebook, Twitter and/or Instagram ads: Facebook allows you to target your ads to the customers you need.
Contest management: contests are a great way to generate buzz and draw fans
One press release per quarter: if your business is growing or selling amazing products, we'll help get the word to news outlets
Custom graphics: make your content pop with custom graphics
Are you ready to start a new campaign (and make more money), give us a call or email us?


What Can We Do For Really Small Budgets?
Don't have $1,500 or $4,000 to invest in Internet marketing?  Before you answer, consider a quarter page color newspaper ad averages $500 per day.  The cost to produce the artwork is another $250 – $500.  When you add everything together, the cost of the artwork and 4 days in a newspaper can cost about $2,500 for one month.  This price does not include any analytics or reporting and covers just 13% of the month.  Newspaper advertising is valuable, but a comprehensive strategy will help you cover all your bases and may include a combination of Internet marketing, newspaper, radio, and TV.
If your monthly budget is under $1,500 per month and you're in the Virgin Islands, we can still help.  Give us a call or email us and we can get you running with a starter package.