Viewing posts categorised under: News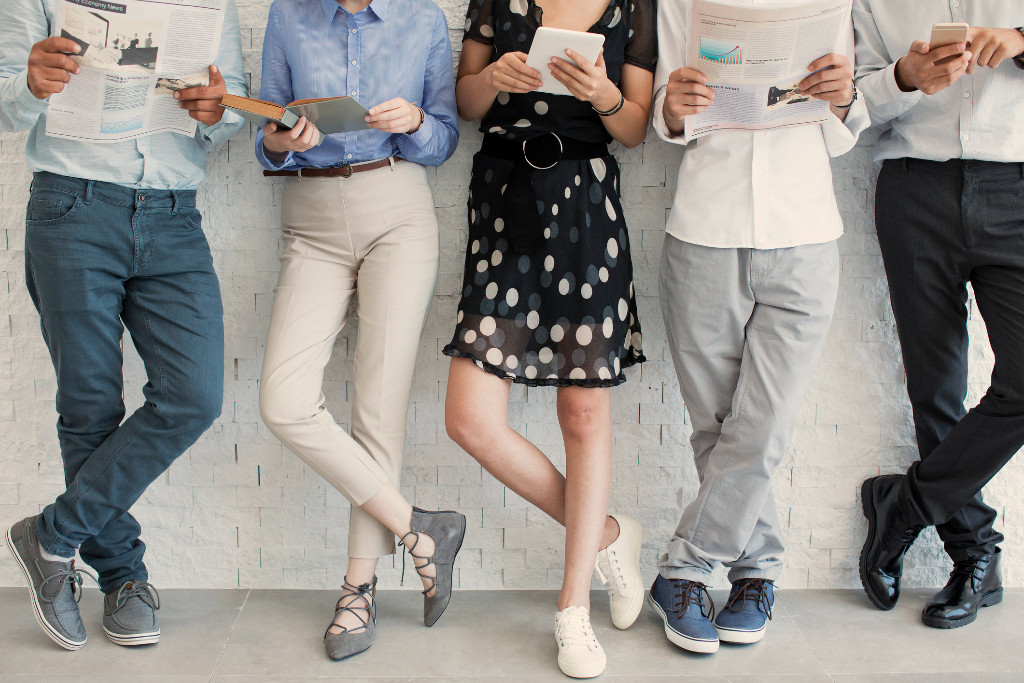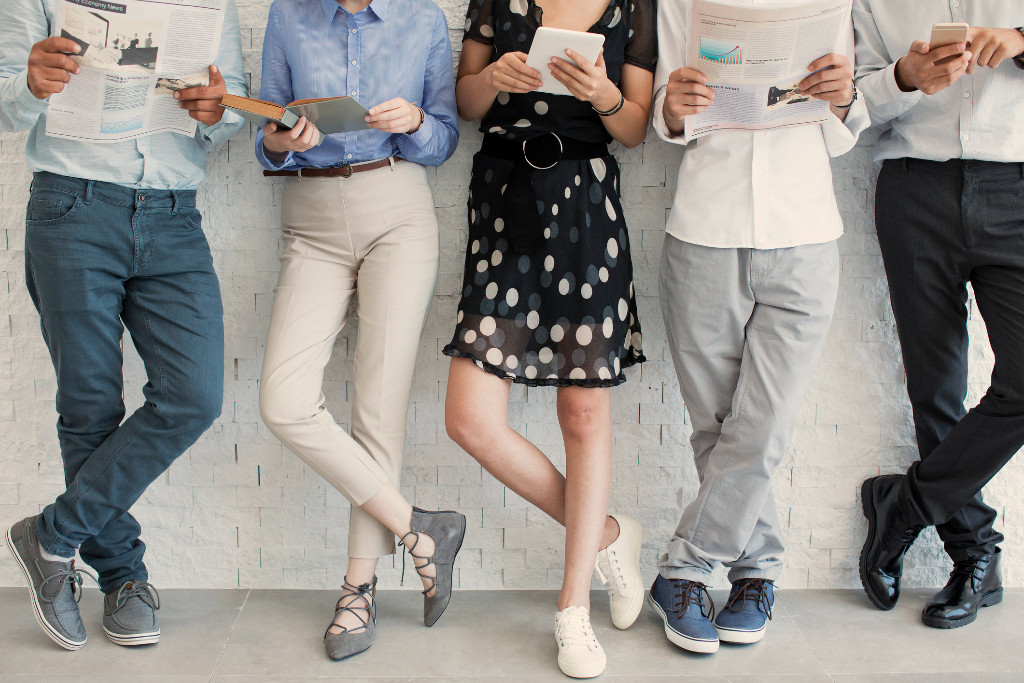 The new year is here and it's time for a website checkup. Does your site have an SSL certificate? If not, you're going to need one. Do you need more website assistance? If so, CrucianPoint has 5 plans to choose from to support anyone from a budding small business to expansive government agencies and corporations. As we focus on our mission of providing the best services possible, take a look at our January updates.
Remember, your success is our success!
Google Chrome SSL Update
Last summer Google released Google Chrome 68. Chrome will now show your website as insecure if you do not have an SSL certificate. As we reported earlier, Google Search favors websites that use SSL certificates. This is part of Google's mission over the last 3 years to build a more secure internet. Contact us to add an SSL certificate to your website.

Hosting and Maintenance
We offer 5 different hosting packages. Each plan builds on the previous one and offers different services and service level agreements. Look at your most recent invoice to find the plan that you're on and review our plans below for additional details on what is included and not included. As always if you would like to discuss your plan or upgrade/downgrade, please contact us at info@crucianpoint.com.
Starter: For those who have an informational site with very few updates and do not need phone support. We will keep your core software updated when possible. Content changes and updates will be billed separately. Not available for online stores.
Professional: For those who need daily backups, need to ensure that their software is always up to date, and need a response within 1-2 business days.
Business: For those customers who are committed to their website and would like a monthly review. Best for those with high volume online stores.
Corporate: Includes everything in business plus SEO monitoring, quarterly analytics reports, performance tuning, and a max 4 hour response time.
Enterprise: Our enterprise plans come with the fastest response times, no-charge updates to your website, support for the latest browsers, third-party product integration, domain name registration, and a maximum 1 hour response time.
For additional information visit: http://www.crucianpoint.com/pricing/web-hosting-pricing/
For our standard terms of service, visit:
http://www.crucianpoint.com/terms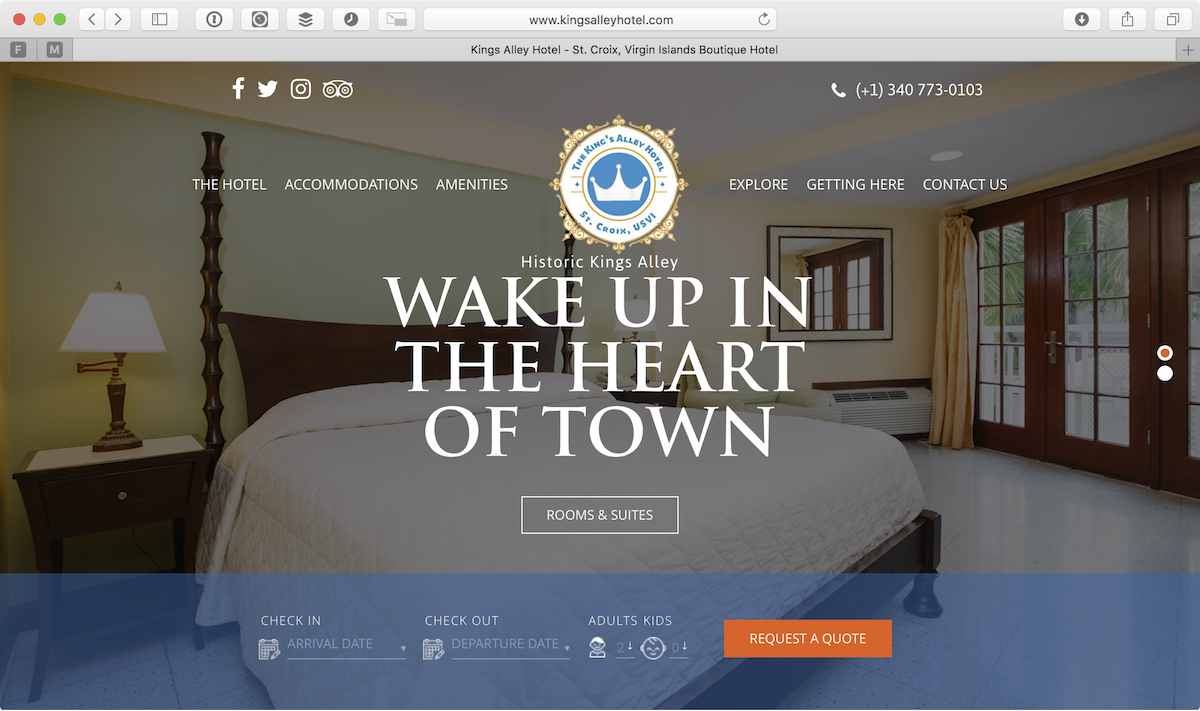 Kings Alley Management Inc. Announces Launch of New Hotel Website
ST CROIX, VIRGIN ISLANDS – Kings Alley Management Inc. (KAMI) is pleased to announce the launch of the new Kings Alley Hotel website: www.KingsAlleyHotel.com. This new site is the beginning of KAMI's endeavor to optimize customer interaction and enhance visitor experience. The result is an intuitive, photo-rich, and engaging online traveler experience.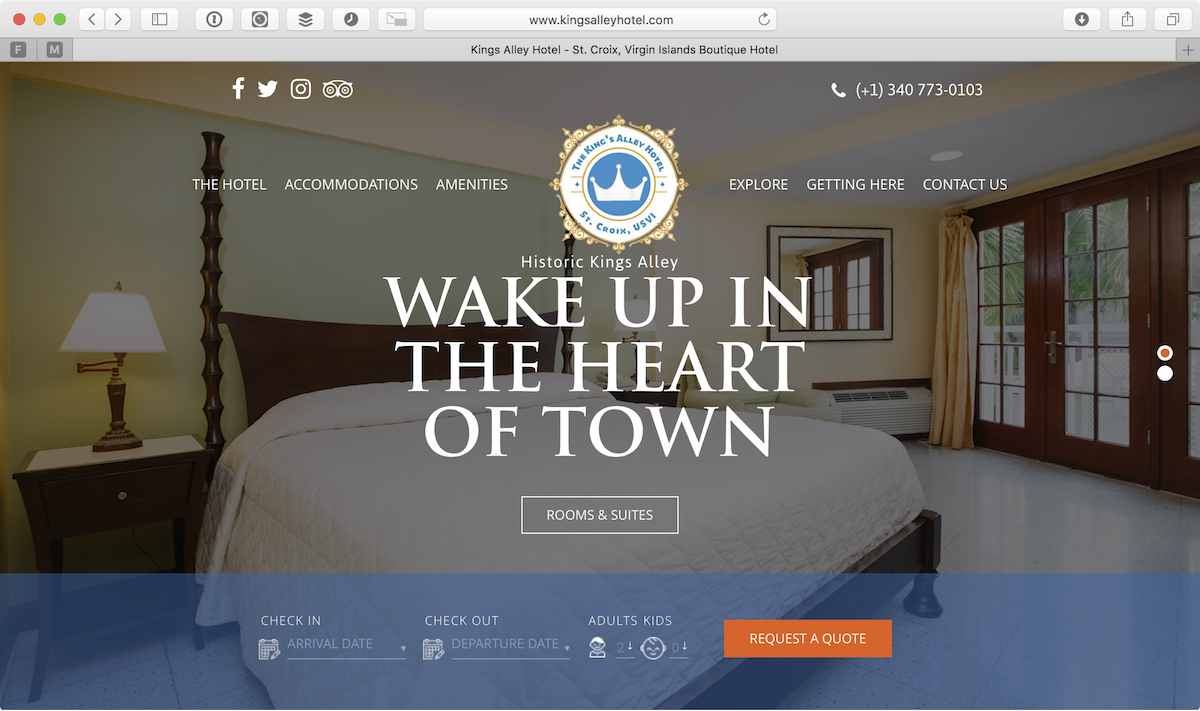 "Kings Alley Hotel is a hidden gem on St. Croix, and we knew that we needed to showcase our property, make it easy for customers to find us, and connect with today's travelers," said Governor Kenneth E. Mapp, Chairman of the Board, Virgin Islands Public Finance Authority and Kings Alley Management Inc.  "The new website is magnificent, has far exceeded my expectations, and confirms our credibility as the go-to hotel in downtown Christiansted."
In partnership with St. Croix based CrucianPoint Consulting, Kings Alley Hotel embarked on the process to launch an online presence that represents the distinct charm of the hotel. In addition to the new website, the project also included the design of a new logo and associated social media accounts and branding guidelines for future marketing. CrucianPoint teamed up with St. Croix photographer, Nicole Canegata, to capture vivid property photos of Kings Alley Hotel. With the ever-growing importance of mobile, CrucianPoint focused on a mobile-first strategy to ensure that the website operates seamlessly on any mobile device. The mobile-friendly site allows jet-setting guests to request reservations and access hotel information from anywhere, at any time. The website also incorporates leading-edge analytical tools to help Kings Alley Management understand how users interact with the website and thereby respond to trends.
To experience the brand new website, visit www.KingsAlleyHotel.com.
About Kings Alley Hotel
Kings Alley Hotel is managed by Kings Alley Management Inc., a subsidiary of the Virgin Islands Public Finance Authority. Kings Alley Management Inc. manages both the Kings Alley Hotel and the Frederiksted Retail Mall located between King Street and Strand Street in Frederiksted. The hotel, built in 1966, is located on the Christiansted boardwalk in the heart of Christiansted's restaurants and retail stores. All rooms are fully equipped with state of the art amenities including 42 inch Samsung smart TVs, Keurig Coffee Brewers, mini fridges, air-conditioning, and complimentary WIFI.
About CrucianPoint Consulting
CrucianPoint Consulting has become one of the leading digital media agencies in the Virgin Islands over the last five years. Awards include Best of the Virgin Islands in Advertising Agencies & Counselors, Graphic Design, and Web Design & Marketing. CrucianPoint specializes digital marketing and the design and development of websites, mobile apps, and custom software. For more information visit www.crucianpoint.com.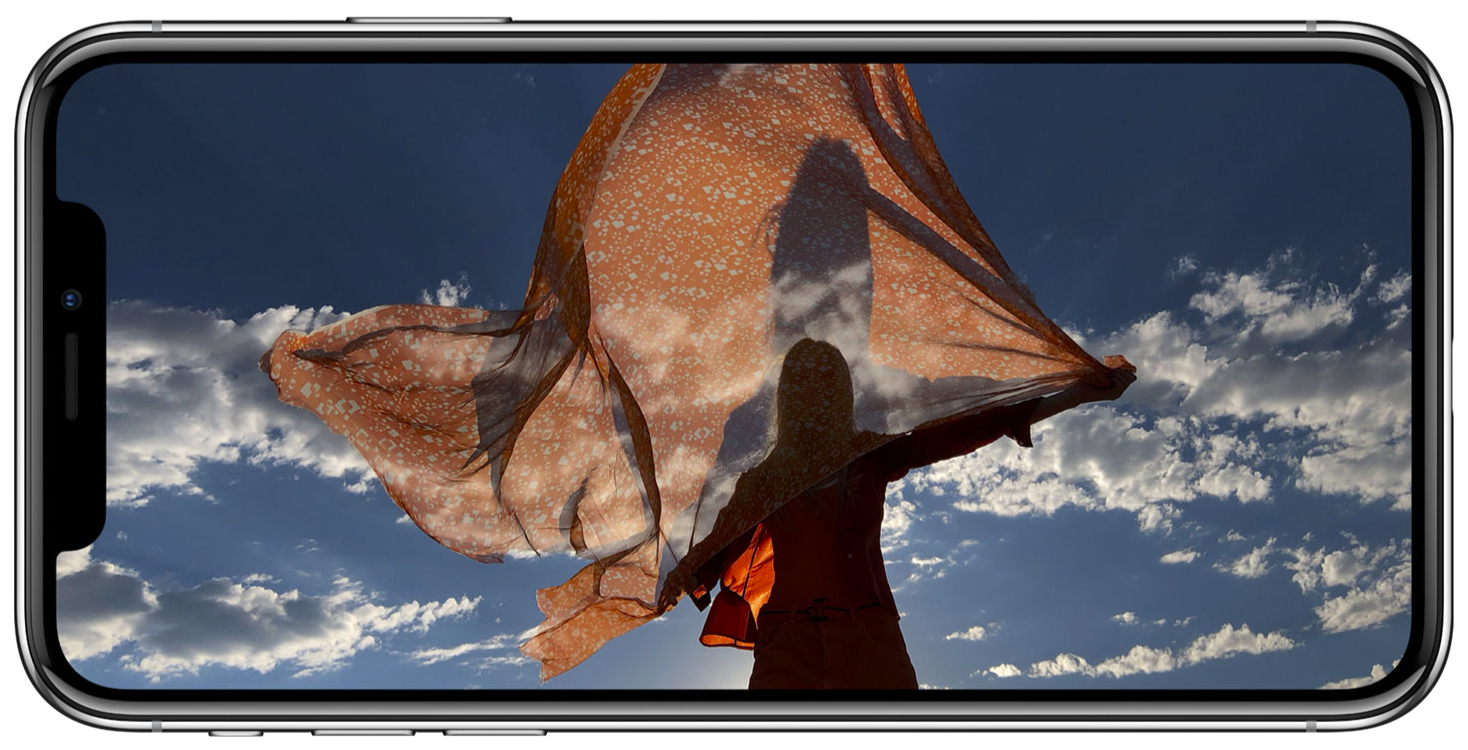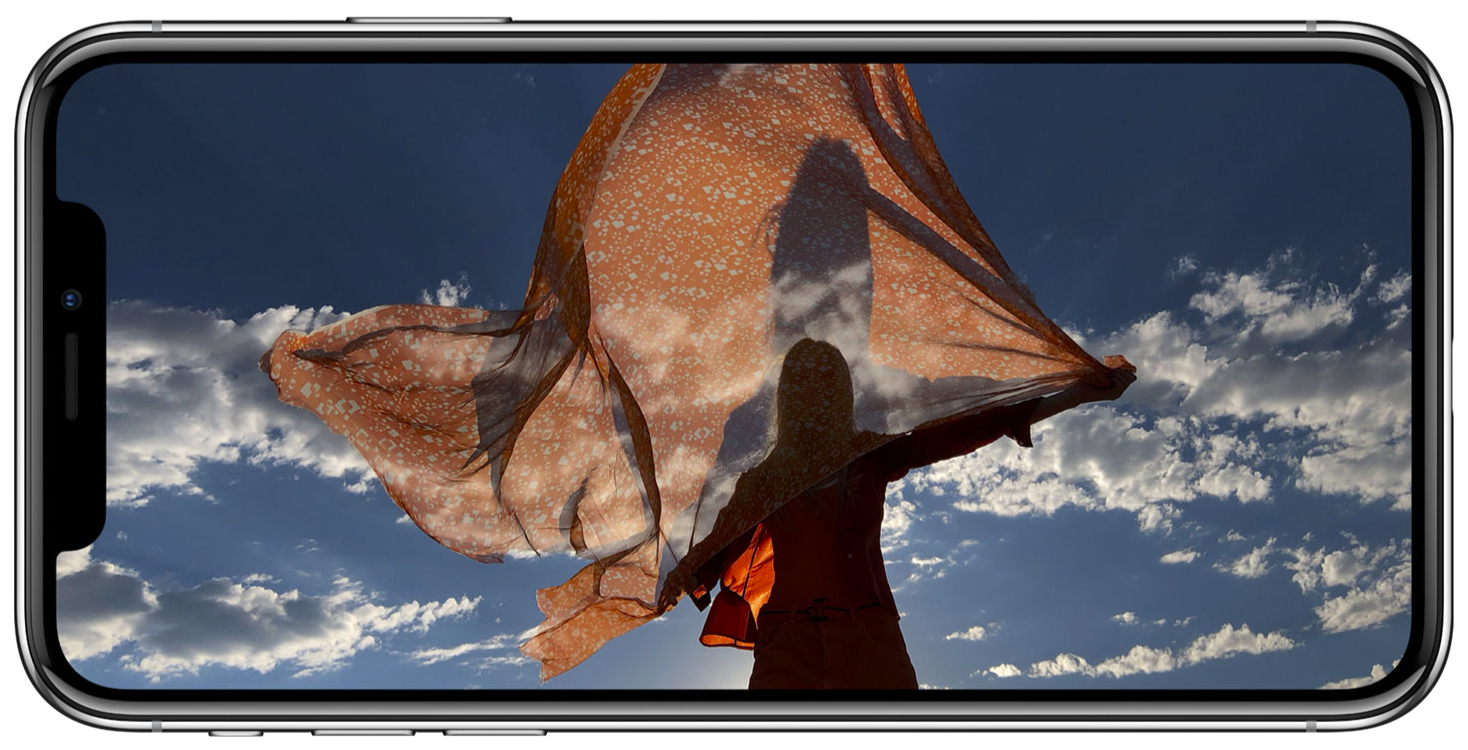 Ten years ago Apple Inc. revolutionized the smartphone world with the release of the original iPhone. Today Apple tried to do it again with the release of the iPhone 8 and iPhone X.
The iPhone 8 is a worthy upgrade to the iPhone 7. Based on previous releases, the iPhone 8 is really the iPhone 7s, but with Samsung releasing the Galaxy S8 and Note 8, Apple does not want customers to feel like they're a generation behind.
The iPhone X is in some ways revolutionary. Most of the new features like edge to edge glass, wireless charging (also available on the iPhone 8) and facial recognition can be found in products from other companies. Apple, however, has fine tuned these features and put them together in a product that is almost perfect. What's not perfect? The price!
Once Apple lowered the starting price of the original iPhone a few weeks after its release, the retail price for a base iPhone started at $599 and increased to $649 in 2010. Today, the base iPhone 8 has a retail price of $699. The iPhone X … $999. Unless you enable iCloud Drive and iCloud Photo Library, the base 64GB iPhone X will likely fill up quickly with larger pictures and apps. Most users are better off with a 256GB phone. This phone starts off at $1149. Add $199 for AppleCare+, and the total price is almost $1350. If you live in an area that charges sales tax, you could be paying almost $1,500 for the 256GB iPhone X. By comparison, the 13 inch MacBook Air starts at $999. The iPhone X in not fully capable of controlling a home or car without other accessories. It does not support teleportation. It doesn't do laundry or pick up the kids. It is not able to prepare cooked meals.
With $1000, would you buy a phone or a laptop? It is possible that Apple will reduce the price next year. The iPhone X is beautiful and exciting but Apple seems to have forgotten that $1,500 for a smartphone probably isn't practical considering a new device is released every year like clockwork. Remember the $17,000 Gold Apple Watch Edition? It was outdated after a year.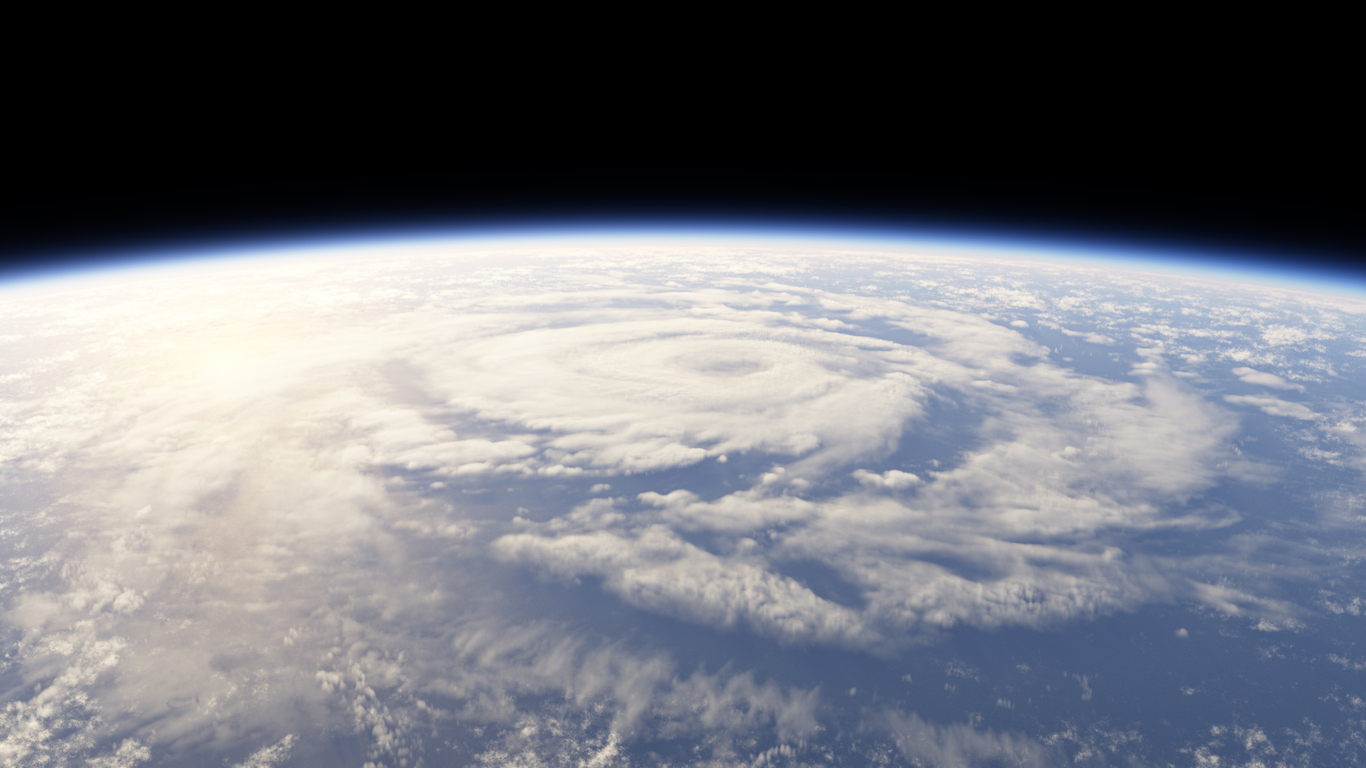 On Wednesday, September 6 Hurricane Irma made its way through the Virgin Islands destroying and damaging many homes and businesses. Although St. Croix received minimal damage, St. John and St. Thomas suffered greatly. We have been working with various agencies and groups to provide helpful information and bring services back online. Here are some sites to keep you up to date with news and recovery efforts.
If you would like to donate to the relief efforts, the St. Croix Foundation for Community Development, Community Foundation of the Virgin Islands, St. John Rescue, and many other organizations are raising money to provide relief to Virgin Islanders. Visit the VINewsApp Hurricane page for a list of organizations and more information.
To our customers:
Although we suspended the automatic suspension of services, you may have received an email about a past due balance. We were tied up with recovery efforts and did not have a chance to update our reminder emails. Many of our customers and partners have been severely impacted, and we'd like to help out.
St. Croix and Southeastern US Based Businesses:
– If your invoice was sent on or before Thursday, August 28 and was due on or before September 5, your new due date is Friday, September 15.
– If your invoice was due on or after September 6, we have extended the due date.
St. Thomas, St. John, and Northeast Caribbean Based Businesses:
– We want you to focus on recovering and rebuilding. You may continue to receive invoices however no services will be suspended. We will work with each of our customers to setup a payment plan or if needed, waive certain fees.
Regardless of where your business is located, if you need assistance at any time or need to extend your payment date, please reach out to us prior to your payment due date or as soon as possible. We're here to work with you.
-Shomari
Manager

Welcome to Tech Tuesday. Every week we will share helpful tips on technology and Internet marketing that may be relevant to your business or personal careers. Be sure to follow us on Facebook and Twitter for other interesting tech tidbits.
This week we start with Why Your Website Doesn't Work and What You Can Do About It. Next week we will discuss the scary truth about website security.
Do you have a topic that you want to see covered? Contact us!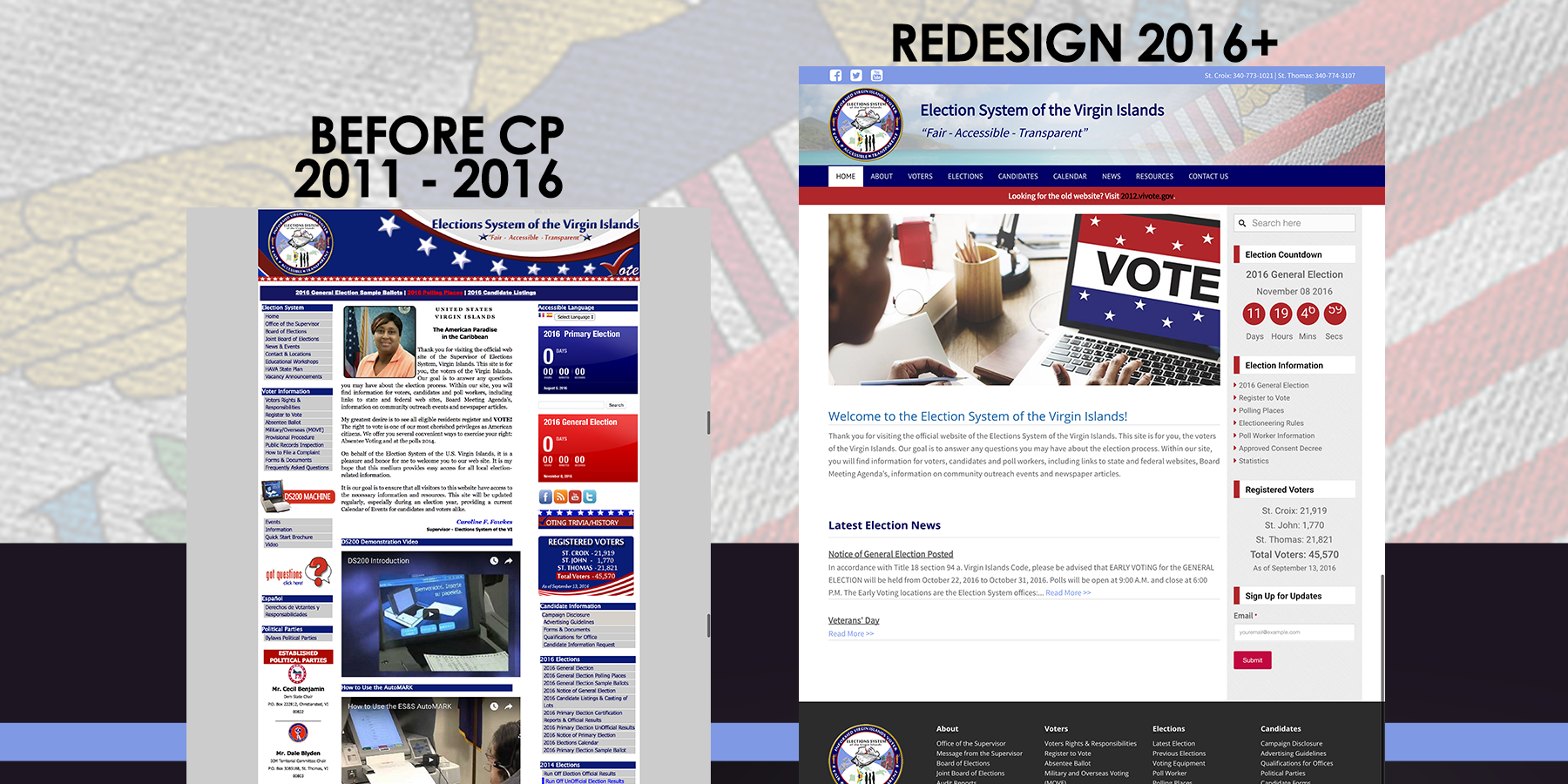 The Virgin Islands Election System has a new website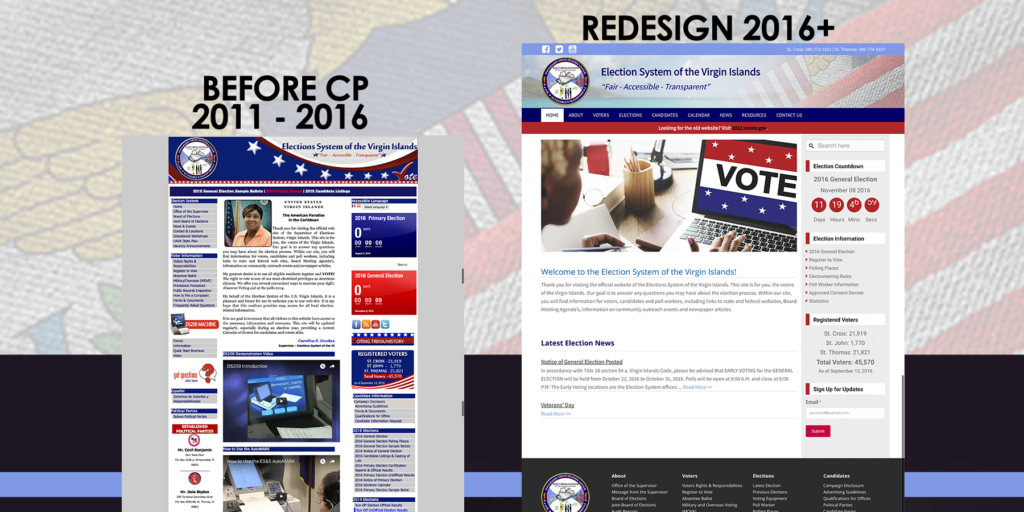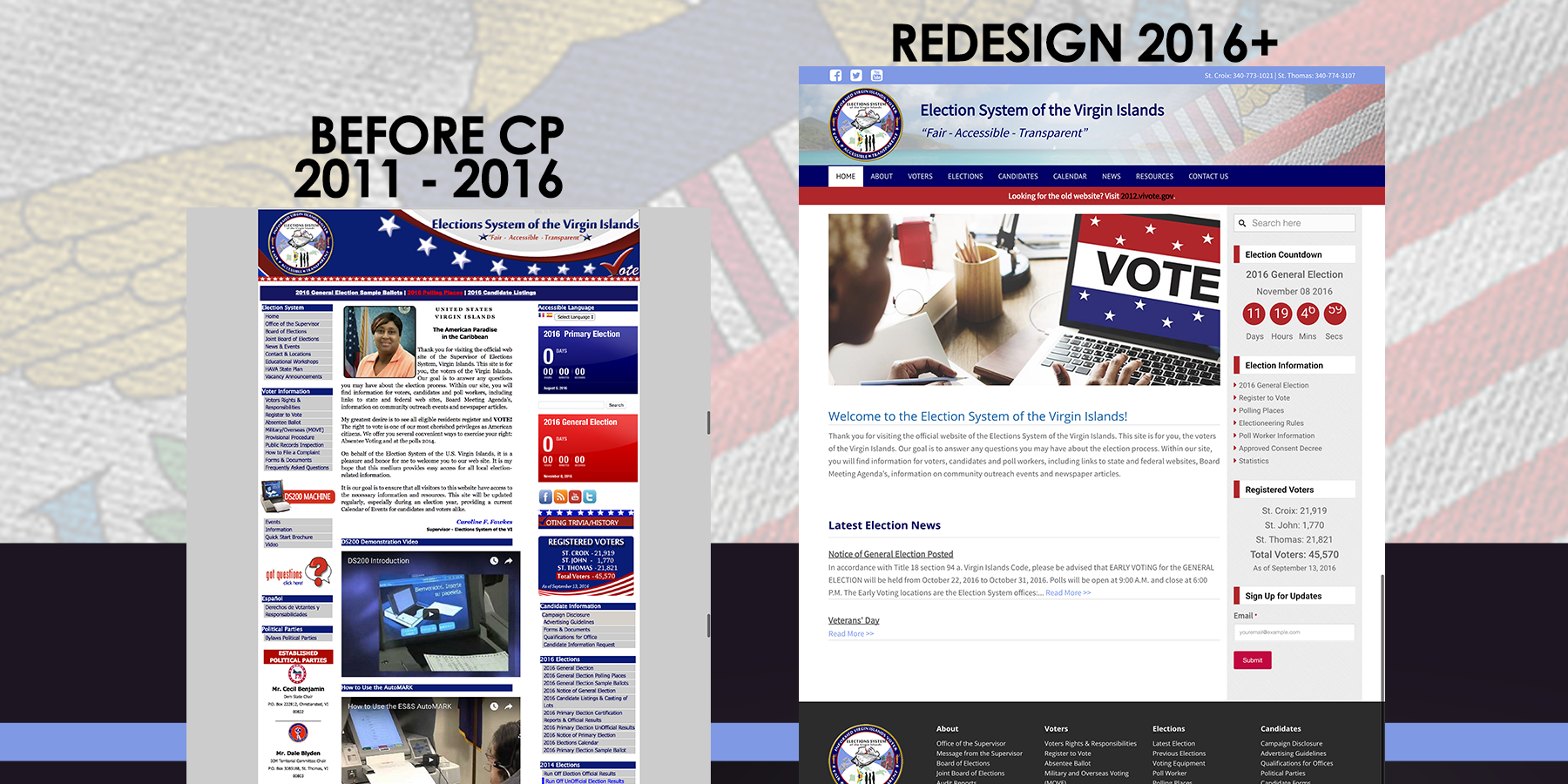 In June 2016 CrucianPoint took over the management of the Virgin Islands Election System website (vivote.gov) and we embarked on a journey to make it easy for the Virgin Islands voting public to find relevant election information and help the election system meet their mission of being Fair, Accessible, and Transparent.
We launched a redesigned website just in time for the 2016 General Election. The new responsive, mobile friendly website focuses on the needs of the target audience and less on the content structure. There are dedicated sections for voters, candidates, and elections. All election information is displayed in a consistent format. The public can quickly find historical election information from 2010 to the present.
We made it easy for content to be quickly updated and information to be found. Voters and other interested parties can subscribe to receive updates when new information is posted. This has been especially useful on election night when election results are posted as they counted.
SaveSave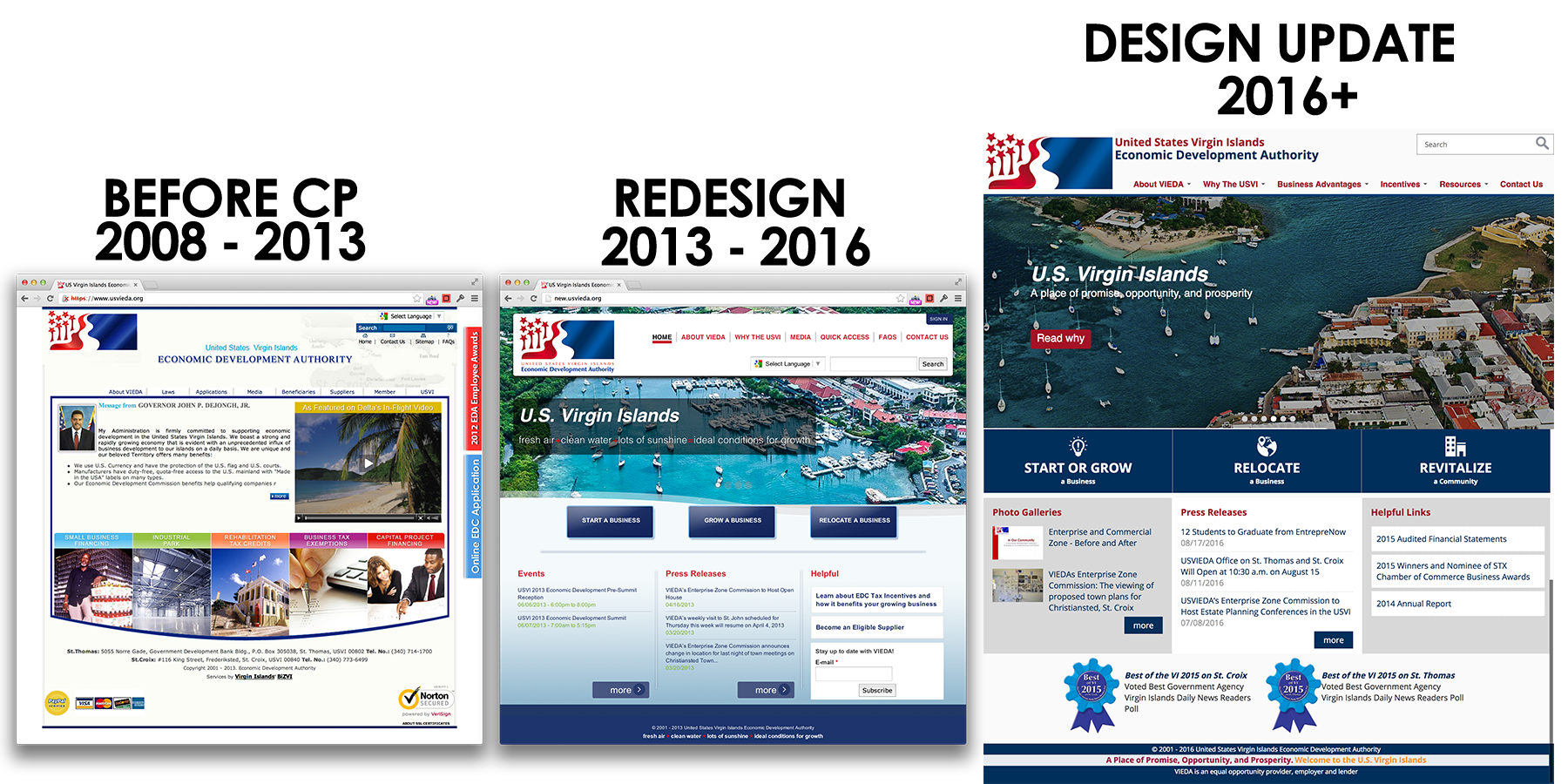 The U.S. Virgin Islands Economic Development Authority website receives a refresh!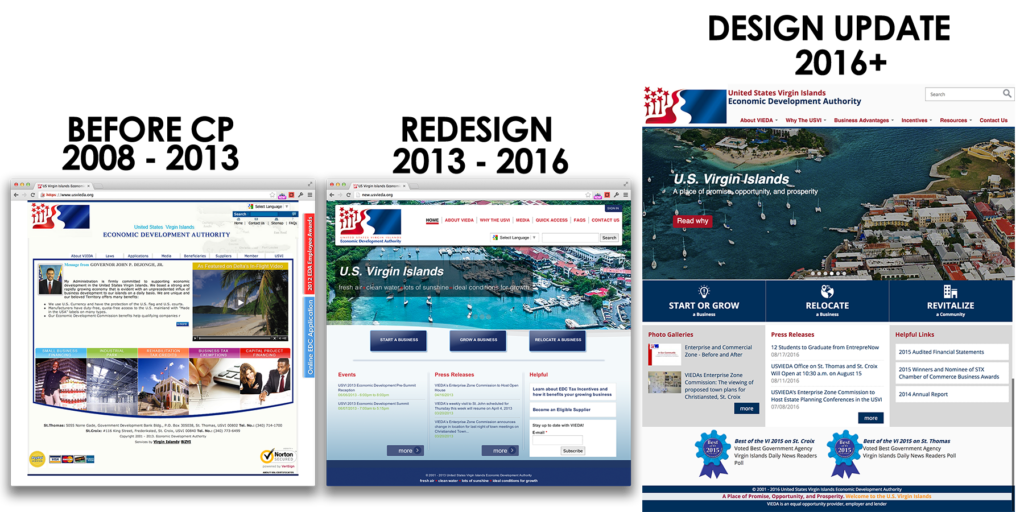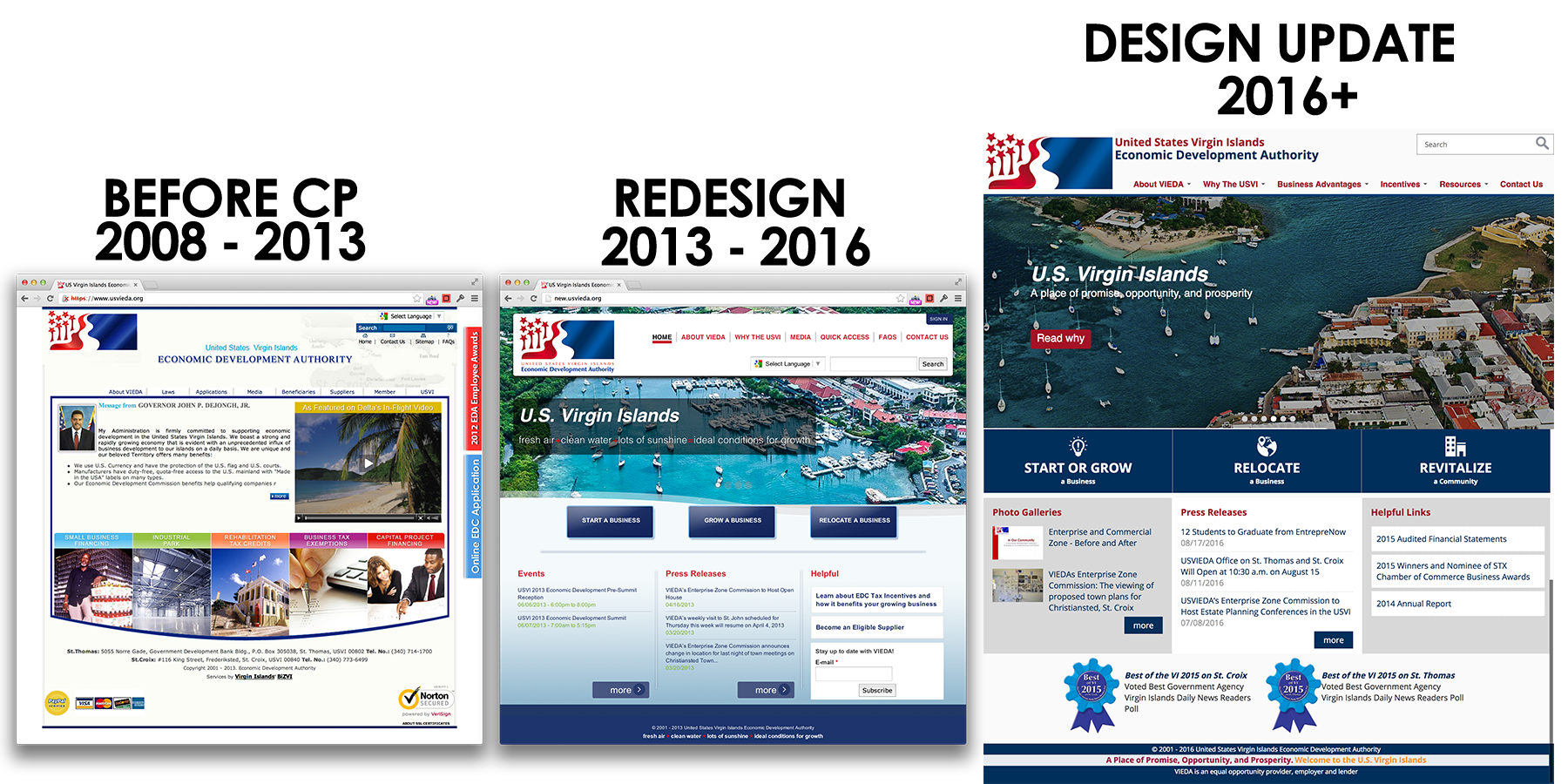 In 2013 CrucianPoint took over the Virgin Islands Economic Development Authority website and we set out to help VIEDA improve their online presence and ensure the world knows that the Virgin Islands is the best place to do business. We designed a new responsive, mobile friendly website that focused on the needs of the targeted audience and less on organizational structure. We made it easy for content to be quickly updated and information to be found. The website became an invaluable tool. The website also saw numerous tweaks and updates throughout the years like any good site should.
Fast forward two years.
Design patterns are always changing. What may be hip today may be flat tomorrow. In 2015 we evaluated the website and where the market was heading. Our design team took up the challenge of coming up with a new design that would be modern yet similar to the design users had come to love.
The new design included a number of changes. We dropped the use of drop shadows and gradients, opting for a flatter look with bigger, bolder fonts. The light blue background became white. Related content moved up to the right side of the page. We also worked with the team to review all of the content and ensure that information is consistent throughout.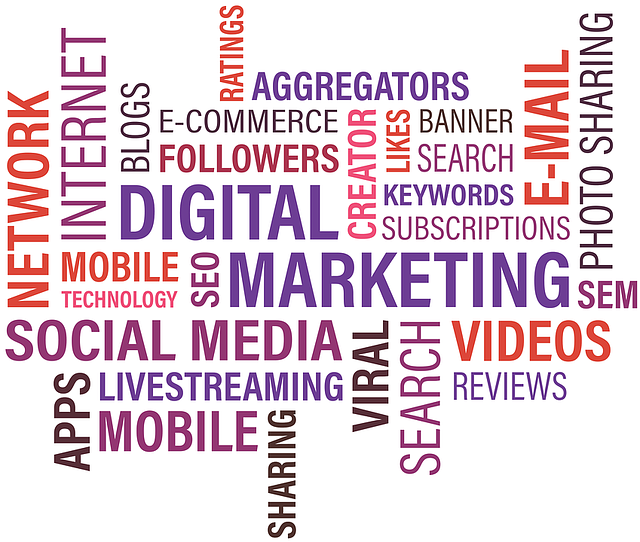 What does it take to deliver real results with Internet marketing?
At a minimum, 20-30 hours a month of research, content development, and graphic design. Content is King!

Don't have 20-30 hours a month? We can help. According to the U.S. Small Business Administration, "small businesses with revenues less than $5 million should allocate 7-8 percent of their revenues to marketing."  This cost should be split between brand development (e.g. website, sales material, etc.) and promotions (campaigns, advertising, events, etc.).  A comprehensive marketing strategy includes a mix of mediums to get the word out about your products and services and keep your brand top of mind when customers think about the products or services that you offer.  A good campaign requires at least 20-30 hours per month for daily Facebook posts and one simple monthly email newsletter.  The average active campaign that includes a comprehensive monthly email newsletter along with multiple daily posts on Facebook, Twitter, Instagram and other social media sites requires at least 20 hours per week and can start at $3,500/month.  The increased cost usually comes with a marketing strategy, reporting, sponsored posts and other tools.  Don't have $1,000? Keep reading.
The Strategy
Some agencies do not include an Internet marketing strategy as part of their monthly cost.  Developing an Internet marketing strategy is important but also time-consuming.  You need to head in with a game plan and a list of measurable goals.  Without a strategy, you may see a bunch of "likes" on Facebook or a lot of followers on Twitter but no one actually interacting with your content or buying your products or services.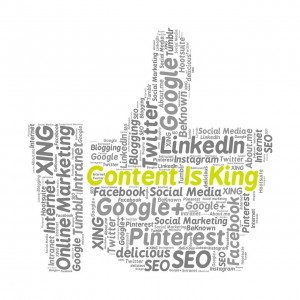 The industry average cost to develop a comprehensive strategy for Internet marketing and outsourcing the work can run about $5,000 per month.  For most small businesses and campaigns, the strategies are all similar.  Blog post help to make you a thought leader and improve your SEO.  Twitter is an excellent way to engage industry leaders, bloggers, and the press.  Facebook is excellent for interacting with and engaging consumers.  Instagram is the go-to place for imagery and short video clips.  If you have great pictures of your products and customers engaging with your products, you will want to show them off on Instagram.  A good strategy will also include some mix of press releases and ads/sponsored posts on one or more channels such as Facebook, Twitter, Instagram, and YouTube.
Why Does It Cost So Much?
You're paying for time and tools.  A two line Facebook post could take 5 minutes to an hour to write and post.  This estimate is especially true if you're searching for good content to re-post from industry leaders or complimentary businesses.  It is also true if you have to look for or edit a photo to include with your post.
If you average 30 minutes per post and 2 posts per day for 5 days a week, you're looking at approximately 5 hours per week or 20 hours per month just for Facebook.  Include time to write, edit, and proof a blog post and email newsletter and you can add at least another 10-15 hours a month.  A conservative estimate of $50 per hour and 30 hours per month comes up to $1,500 per month.  When you include the cost of tools, strategy, reporting/analytics, ads/sponsored posts, press releases, multiple posts, graphic editing, and multiple channels, the cost goes up.
Keep in mind you don't need to spend big either.  A $10,000 or $20,000 monthly budget is not going to help the average small business unless you are doing something amazing that caters to a broad audience. Find an agency with experience and a budget that complements your business.  Freelancers are inexpensive but are usually only good in one area and restricted by time. Big agencies usually have multiple levels of management that must be supported and as a result, charge much more.
Can I Do It Myself?
Sure, but remember you get what you pay for – or don't pay for.  If you are strictly interested in keeping your customers updated, you can do this yourself or at a reduced cost.  Part of marketing is to keep your brand at the top of mind when your customers think about products or services that you can offer.  We encourage business owners to put out a monthly newsletter that can include three easy items: 1) what's new or changed at your business, 2) what's new or changed in the industry, and 3) an event that will be happening nearby.
How We Do It?
We start our SEO and digital marking plans at $1,500/month. This budget provides us with the necessary time and resources to do the job correctly and be confident in the success of your campaign.  We can do regular monthly Internet marketing or short-term high traffic campaigns to promote an event.
Our goal is to develop long-term relationships and help our customers grow.  We generally do not accept clients under $1,500/month because it is difficult to deliver real results.  We do not want to undertake projects or accept money from clients if we do not believe we can provide real results and true value.  Poor experiences and client turnover result in wasted money on both sides.
We also leverage our technical expertise to enhance your website to support a strategic marketing campaign.
Depending on your budget, here is what you get:
Daily social media posting: we will post content 1-3 times a day (sometimes more and depending on the channel)
Increase in followers: we will search for Twitter followers who could be potential customers
1-12 blog post a month: we will generate informative content using keywords relevant to your business and industry.
Email newsletter: 1-4 times a month we will generate an email newsletter featuring at least one of the blog post
Facebook, Twitter and/or Instagram ads: Facebook allows you to target your ads to the customers you need.
Contest management: contests are a great way to generate buzz and draw fans
One press release per quarter: if your business is growing or selling amazing products, we'll help get the word to news outlets
Custom graphics: make your content pop with custom graphics
Are you ready to start a new campaign (and make more money), give us a call or email us?
What Can We Do For Really Small Budgets?
Don't have $1,500 or $4,000 to invest in Internet marketing?  Before you answer, consider a quarter page color newspaper ad averages $500 per day.  The cost to produce the artwork is another $250 – $500.  When you add everything together, the cost of the artwork and 4 days in a newspaper can cost about $2,500 for one month.  This price does not include any analytics or reporting and covers just 13% of the month.  Newspaper advertising is valuable, but a comprehensive strategy will help you cover all your bases and may include a combination of Internet marketing, newspaper, radio, and TV.
If your monthly budget is under $1,500 per month and you're in the Virgin Islands, we can still help.  Give us a call or email us and we can get you running with a starter package.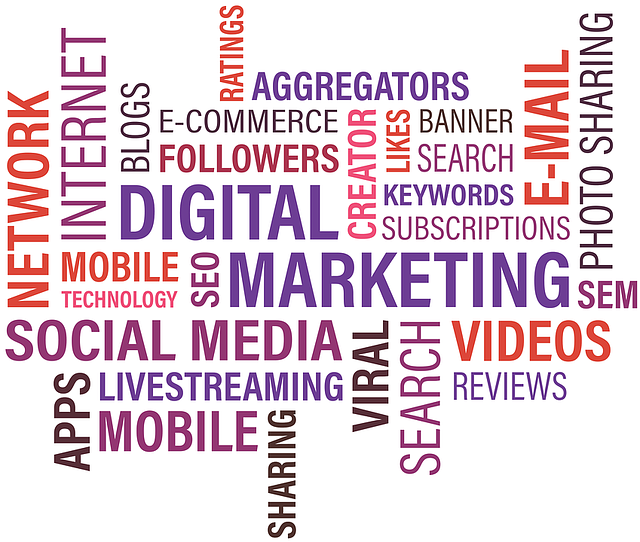 Why Managed Web Hosting?
Truth is web hosting is cheap! However managed hosting is not. Simply put, with managed hosting you don't have to worry about server downtimes and other technical issues. You focus on running your business and your provider focuses on making sure your website is up and secure. Typically the hosting provider is responsible for setting up and maintaining every aspect of the website. This may include configuring hardware, installing and configuring software, technical support, patch management, system maintenance, monitoring, backups, disaster recovery, vulnerability scans, intrusion detection, and updates.
Managed web hosting is beneficial for small to medium sized businesses since it is very costly to hire a full-time in-house webmaster to maintain their websites. Most people who select managed web hosting do so to minimize the amount of hands-on work needed to maintain their website either because of limited IT knowledge or limited time. Although managed web hosting plans are more costly than shared web hosting plans, business owners save on resources and time on maintaining their website.
On the low end, managed web hosting cost $1,500 to $3,000 annually per website. On the high end, managed web hosting can cost $40,000 to $60,000+ annually. When you consider that most webmasters charge between $60 and $150+ per hour and a basic website requires at least 2 hours of maintenance per month, expect to pay a minimum of $120 to $300 per month. Beware of bargain basement pricing. The savings you claimed on that bargain basement service will be wiped out if your website is down for a significant amount of time or you have to rebuild from scratch.
Below is a comparison of the services provided by a traditional web host and CrucianPoint. A traditional web host is a company like GoDaddy, Hostgator, 1and1, BlueHost, and Dreamhost. If you would like more information or have questions, contact us.
Web Hosting
Email Hosting
Install and optimize software and plugins
Offsite Website Backups
Uptime Monitoring
Content updates
Structural website changes
Custom software installation
Proactive security monitoring
Malware removal
Domain name registration and renewal
SSL certificate installation and renewal
Performance optimization
Traditional Host
Starting Price
Install and optimize software and plugins
Structural website changes
Custom software installation
Proactive security monitoring
Domain name registration and renewal
SSL certificate installation and renewal
CrucianPoint
Starting Price
Install and optimize software and plugins
Structural website changes
Custom software installation
Proactive security monitoring
Domain name registration and renewal
SSL certificate installation and renewal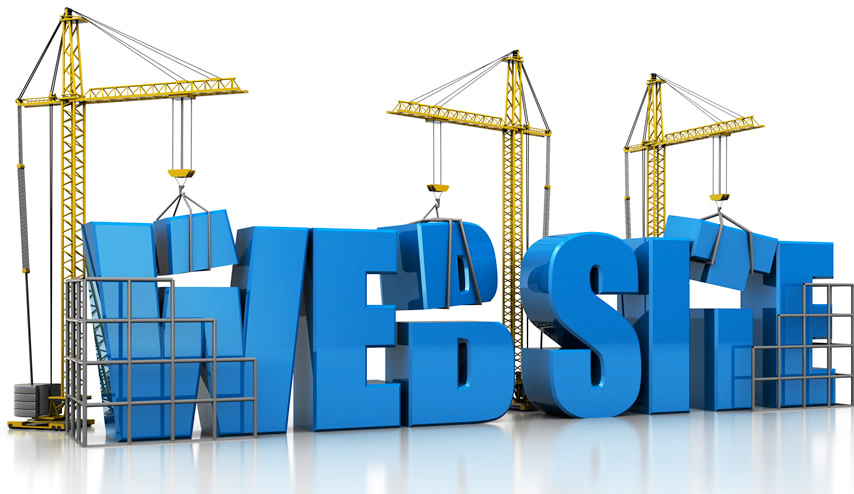 Making the decision to create a website to market your service is the right step in having a successful business. Sometimes we get wrapped up in font type and color scheme, and overlook more behind the scenes aspects of building and maintaining a website. Here is a crash course on some important factors of building a website! Continue reading "Websites 101" →